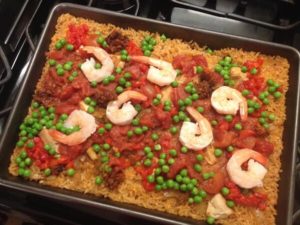 Everyone I know is suffering from quarantine fatigue, and you may be too. But there have been a few upsides to this forced exile. We have returned to the kitchen to make many more meals at home than usual and discovered the pleasure of family dinners. And if you are like me, you've also been prodded into doing a deep dive into the cabinets and freezer in an effort to find inspiration and also to clean out things that have been lingering around for a while.
Some of us are looking for ideas that will keep up spirits and whet palates. Some are trying new recipes and techniques (sourdough bread, I'm looking at you). Some of us just want to get dinner on the table without being met with the family whiners who are tired of those three or four standby recipes that have been in constant rotation for the past couple of months.
I was in search of something highly flavorful and interesting, while using pantry and fridge items, yet something that used simple methods I could pull off on a day when I was lacking ambition. That's when I realized I had most of what I needed to make a paella.
You may be thinking that sounds complicated and expensive. And asking who wants to make a special trip to find fresh seafood anyway? And you may think you have to have a special pan to do it in. Not true.
What is true is that this is not an authentic, traditional paella. For that, check out this post.
But these are make-do times and if you have a few standards like rice, tomatoes and pimento in your cabinet and chicken, shrimp, peas and broth in your freezer, you are all set for this Simple Sheet Pan Paella. You can use Arborio or Canoroli rice but any short grain white rice will work. (However, don't be tempted to sub brown rice, as its longer required cooking time will throw off the timing here.) Feel free to add or subtract items as available.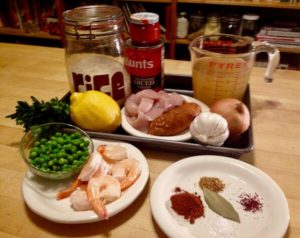 While the paella cooks, make a green salad topped with orange segments and toasted almonds.
Then pour a glass of Obalo Rioja and ask Alexa to "Play some Segovia".
Simple Sheet Pan Paella
Serves 4
1 cup rice (Arborio or short grain white rice)
2 Tablespoons olive oil
2 boneless skinless chicken thighs or breast pieces, cut into 1 1/2" cubes
4 ounces Spanish chorizo or hot Italian sausage, cut into 1/2" rounds
1 small onion, chopped
1 clove garlic, minced
1 3/4 cups broth
1 teaspoon smoked paprika
1/2 teaspoon espelette or cayenne pepper
1/4 teaspoon saffron
1 bay leaf
1/2 teaspoon salt
8 medium shrimp, tails on
3/4 cup canned fire-roasted tomatoes with juice
1/4 cup pimento or chopped red pepper
1/2 cup peas
Chopped parsley
1 lemon, cut into wedges
1. Preheat oven to 350º. On a sheet pan, pour rice and drizzle with 1 tablespoon of the oil. Toss well, then spread out into an even layer. Bake for 5 minutes.
2. In a 9" deep skillet over medium high heat, add the second tablespoon of oil and sauté chicken 2 -3 minutes until it begins to brown. Remove the chicken and spoon it on top of the rice. Add sausage and onion to the pan and sauté until lightly browned, about 3 minutes. Add garlic and sauté an additional minute; the meats may not be cooked completely but everything will finish cooking in the oven. Remove and arrange on top of the rice.
3. In the same pan, place broth and spices and bring to a boil; lower heat and simmer 5 minutes. Gently pour over the contents of the sheet pan. Cover tightly with foil and bake 20 minutes.
4. Remove pan from the oven and carefully loosen the cover to release steam, then remove foil entirely. Stir the mixture gently. Layer the shrimp, tomatoes, pimento and peas on top of the rice mixture. Recover with the foil and return to the oven for 8 more minutes or until shrimp are pink and cooked through.
5. To serve, sprinkle with parsley and the juice of one lemon wedge. Arrange remaining lemon wedges around the platter.