Are you one of those people who sign up for a CSA (Community Supported Agriculture) box eagerly in the winter and then, when deliveries start, you are dismayed by piles of kale, chard and spinach?
You open the box to find – again! – a mountain of green leafy veggies and you wonder what to do with that mountain. You know they are too good, and good for you, to let them spoil but you can't use them fast enough. I have your answer, thanks to a local farmer who shared this tip with me. And I'm going to share it with you because I consider it the one most useful of all kitchen hacks.
Dave Cleverdon of Kinnikinnik Farms in northern Illinois arrived in my kitchen one day with a black garbage bag full of chard. While I tried to think fast about how to use it, he directed me to boil "a lot of water" and then calmly sat at the counter and chatted, his hands never stopping as he pulled off the stems in a smooth continuous motion. A quick swish through slightly warm water (because the warmer temp relaxes the leaves and removes more grit than cold water) and then a very quick dunk into the boiling water, just until the leaves wilted and turned bright green, was all they needed. We drained them in a colander then scooped them onto a layer of kitchen towels.
Once they cooled enough, he grabbed a handful of leaves and squeezed in his fist. Dave says he learned to make these in Italy where the cooks made them the size of tennis balls. I prefer to make mine slightly smaller, more like golf balls, because that equals about 2 cups of original greens, or approximately 2 ounces, for ease in calculating amounts for a recipe.
Tuck the balls into zip-top bags and freeze.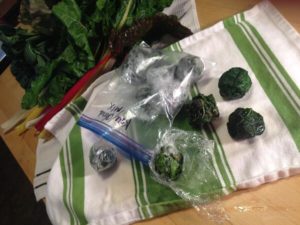 Make these bombs from curly or Lacinato kale, any chard or spinach. You can separate different types or mix them together; most greens are interchangeable in a recipe.
Save the liquid that results to use in soup or smoothies – it's filled with nutrients and flavor. Wrap the balls in plastic and freeze in a zipper bag where they will be ready for all kinds of uses for up to 6 months.
Take what you need out of the freezer and let them stand on the counter for a few minutes until just thawed enough to thinly slice or coarsely chop, depending on the recipe. Use them in smoothies, or in soups, in pasta dishes and quiches. But most often I use them for flavor and color in scrambled eggs or these baked eggs.
Baked Eggs in a Green Bomb Nest
This makes a great brunch dish, or call it Breakfast for Dinner if you like. Serve with fresh fruit and toasted and buttered sourdough bread.
2 or 3 Green Bombs or 4 ounces fresh greens, blanched and drained well
3 Tablespoons olive oil
8 ounces fresh mushrooms, roughly chopped
2 scallions, thinly sliced
1 clove garlic, finely minced
2 Tablespoons white wine (optional)
2 Tablespoons flour
1 1/2 cup milk or broth
1 teaspoon Dijon-style mustard
1/4 teaspoon grated nutmeg
Sea salt and fresh ground pepper (substitute Espellete pepper if available)
4 large eggs
Preheat oven to 350º. Butter or spray 4 individual ramekins and set aside.
Pull Green Bombs from the freezer and allow to thaw slightly, then chop the leaves coarsely.
In an 8-inch skillet over medium high heat, add the oil and sauté the mushrooms and scallions until they begin to brown, about 5 minutes.
Add the garlic and cook until fragrant, about 1 minute.
Deglaze the pan with a splash of the wine (or some of the broth).
Sprinkle the vegetables with flour and stir for a minute, then add the remaining liquid, mustard and nutmeg. Continue to cook over medium heat, stirring until thickened.
Season with salt and pepper, then stir in the chopped green leaves, separating them with your fingers as necessary.
Spoon some of the mixture into each of the prepared ramekins; use the back of a spoon to make an indention and break an egg into each.
Bake for 15-20 minutes or until whites are completely cooked and yolks are as you like them.
Sprinkle with salt and pepper and serve immediately.
I guarantee that now that you know this tip, and you have a bag of these "Bombs" in your freezer, you'll never dread having an abundance of greens again.