When my counter fruit bowl overflows with bananas, as it often does, my taste buds urge me to make a banana pudding. Or a banana pie. Or, best of all, a combination of the two – a banana pudding cheesecake.

There are so many opinions about what the base of the "perfect" cheesecake should be. Some people go for plain cream cheese and simply use the recipe from the inside of the package. That's not a bad plan. It's as familiar and traditional as you can get.
Others opt for ricotta, preferred by the Italians who have made these types of cakes for generations. Or farmers cheese. Or combinations of cheeses, all of which give the finished cake slightly different textures and flavors. Or maybe the choice is the no-bake recipe popular among my mother's generation. And then there are the numerous opinions about crusts. Again, those vary from plain sweet pie crust to graham cracker crumbs or Oreos or chocolate wafers. Or no crust at all.
Finally, there are the topping choices: leave it plain, top it with a layer of sour cream a la New York style, add fresh or canned fruit topping, or a sprinkle of nuts or more cracker crumbs.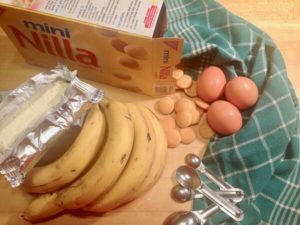 Curious about the history of what a "real" cheesecake ought to be, I did a quick search to discover that there was an entire book written about how to make this delicacy by a Greek physician Aegimus as early as the 5th century BCE, and cheesecake was probably served to athletes competing in the original Olympic Games. The name was adapted by the English much later, not until the 15th century. Some even claim the English invented the dish, though that is disputed far and wide because almost every country has some form of this dish. The American version was first made in the 1870s. Many early cheesecakes were savory, and those still have plenty of fans today who enjoy flavors such as sundried tomato with herbs or blue cheese or mushroom enhanced versions served as first courses or party appetizers.
Those earliest cakes generally had a yeast crust component, more cake than cheese. Then the yeast version went out of style and all sorts of crusts become popular. Every cook since 500 BCE seems to have made revisions to suit their place and circumstances. More recently, culinary adventurers have added contemporary flavors or made adjustments to fit a non-dairy diet. And everyone has a favorite.
I once owned a retail shop where I made 10 – 12 cheesecakes every day. I could feature a different flavor every day of the year and for every holiday. Since I'm more of a traditionalist, my first choice is usually the most simple. Except for this one! When I have bananas and 'nilla wafers on hand, I make an exception.
Be assured that this recipe wins fans every time I make it. It is filled with Southern tradition, incorporating old-fashioned 'nilla wafers, pecans and of course, that rich banana pudding flavor. Don't be afraid to add a glug of Bourbon to the bananas when you cook them, either, for a true Southern touch.
Whatever variation you choose, I encourage you to make a cheesecake soon. Personally, I think you should start right here.
Banana Pudding Cheesecake
Makes one 9" cake
1 1/2 cups (about 6 ounces) finely ground vanilla wafers
1/2 cup chopped pecans
1/4 cup melted butter
2 large ripe but firm bananas, diced
2 Tablespoons brown sugar
1 Tablespoon lemon juice
1 Tablespoon bourbon (Optional)
3 8-ounce packages cream cheese, softened
1 cup granulated sugar
3 large eggs
2 teaspoons vanilla paste or liquid vanilla
Whole vanilla wafers for the pan (see note)
Garnish: Whipped cream and more whole vanilla wafers or crumbs
1. Preheat oven to 350º. Prepare a 9-inch springform pan by spraying with cooking spray on base and sides.
2. Grind the wafers in a food processor, adding nuts and butter and pulsing just until the mixture has the appearance of wet sand. Press firmly into the base and slightly up the sides of the pan. Bake for 10 minutes; cool well on a wire rack before filling.
3. Meanwhile, place diced bananas, brown sugar and lemon juice into a small saucepan and cook over medium –high heat, stirring constantly for 1 minute until sugar is completely dissolved, but bananas are still intact. Remove from heat and stir in bourbon if using.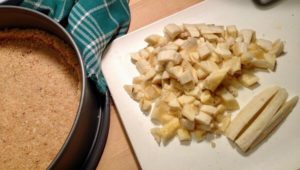 4. Place cream cheese into the bowl of a stand mixer and beat for 2 – 3 minutes until very light and creamy. With mixer on medium speed, gradually add granulated sugar. Scrape down bottom and sides and with mixer at medium speed, stir in eggs one at a time. Add vanilla.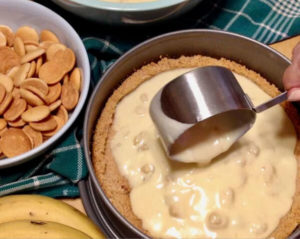 5. Fold the cooled banana mixture into the cheese mixture by hand and pour half of it into the prepared crust. Tuck whole wafers around the sides of the pan, rounded side toward the pan sides.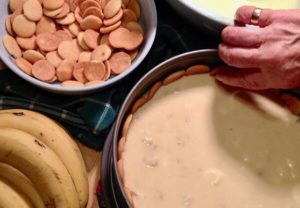 6. Carefully pour in the remaining filling and smooth the top.
7. Bake for 45 – 55 minutes until the center is set and no longer jiggles when the pan is gently shaken. Cool for 20 minutes, then use a kitchen knife to run around the edges to loosen the cake.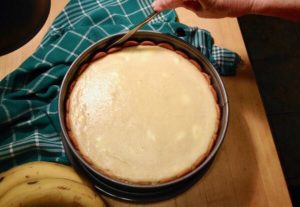 8. Continue to cool completely on a wire rack for 1 hour. Cover and chill 6 – 8 hours before cutting to serve, garnished with whipped cream, more wafers or a sprinkle of ground crumbs.
NOTE: You may use either regular or miniature 'nilla wafers – I prefer the minis because they fit nicely around the edge of the pan and look attractive. You will need about 24 minis or 18 regular size cookies to fit the pan.