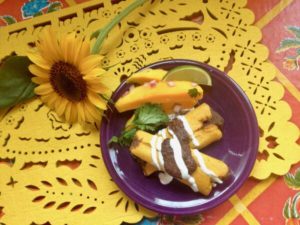 We've all been through major life changes. Whether voluntary or mandated, lifestyle or dietary, you know that when you make changes, things, well, change!
If you have recently moved to a vegan diet, you have made some major changes. You had to learn how to order at a restaurant and how to look for hidden no-nos on a menu. You had to red a lot of labels at the supermarket. You learned how to make adjustments in your cooking at home. But inevitably when you made those changes, you no doubt miss some things you once thought of as common in your diet but have now eliminated.
Mexican food and flavors may be one of those things.
My posse of women friends used to go out every Friday evening for lots of margaritas and great Chicago Mexican foods. I moved to Texas and learned all about Tex-Mex flavors. When I lived in California, there was Cal-Mex to discover. And I have taken – and led – many food-themed tours in Mexico where I learned from the abuelas the most authentic ways to make delicious dishes. Those are flavors I crave and adore.
So when I heard that this week's challenge for The Chopping Block's private Facebook group is vegetarian/vegan foods and how to make them, I took myself to the kitchen with the goal of making something that would be totally "legal" on a vegan diet, yet remind me of those complex and delicious flavors.
One of the things I enjoy making, especially when I have friends in the kitchen to help, or a holiday meal to prepare, is tamales. They are a little time-consuming but fun to do and everyone loves them, whether as a snack, an appetizer, or the focus of a meal. So I made it my personal challenge to make tamales which were delicious yet suitable for a vegan diet.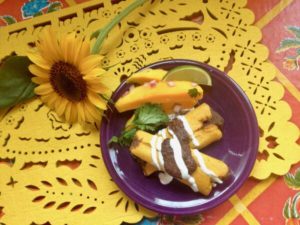 On many of my trips to Oaxaca, I have enjoyed a meal on the rooftop of a bed and breakfast where the owner serves her signature pumpkin tamales with a mole filling. I wondered if I could adapt her recipe. South American cultures use calabacitas (pumpkins and squash) in surprising ways – at least surprising to their North American neighbors who equate pumpkin with Thanksgiving and not much else. But let me suggest you grab a can of pureed pumpkin (not pumpkin pie mix!) and give this a try.
This recipe makes about fifteen 4-inch tamales. Make them small for appetizers or slighty larger as entrées. The recipe is easy to double if you want more, but if you are doing this for the first time, and or working alone, I recommend you make one batch to start.
A few facts about mole – the word describes a paste or sauce used in many ways. There are seven master mole sauces and then every cook makes variations to suit their own taste. Traditionally a mole might have as many as 25 ingredients and take hours to concoct. This bean filling is not that, but uses the same flavors to create a great substitute reminiscent of the traditional one I had in Mexico.
A visit to a Mexican grocery store might be in order to get some of the ingredients, but they are pretty accessible and may also be available at your standard supermarket:
Cornhusks – come in a bag of several dozen husks. You will only need about 24 for this recipe, but seal extras in a plastic bag and store them on the pantry shelf. I think once you've made these, you may be making them again soon!
Black Beans – you choose if you want to use dry beans, which must be cooked ahead of time, or if you want the convenience of canned black beans.
Guajillo Chiles – these are the most common of the many dried chiles. They have a mild, slight fruity flavor.
Serrano Chile – small but powerful, you decide how much or how little your heat tolerance will allow. Substitute jalapeno if you wish.
Chipotle Chile – the dried and smoked version of a red ripe jalapeno, these give a deep and spicy flavor wherever they are used.
Mexican Oregano – the flavor is slightly different than common, or Italian, oregano and often has a lot of stems which need to be sorted out before use. If available, epazote is more authentic and can be used here. Or substitute with regular oregano but use a bit less.
Whole Cumin Seeds – whole are best because you will be toasting them before grinding with the other filling ingredients. You may substitute ground cumin if necessary.
Smoked Paprika – not a traditional Mexican spice, but I use it to give the filling more slightly smoky flavor. Eliminate if using Chipotle.
Chipotle Powder— full of heat but also a delicious smoked flavor. Substitute cayenne if chipotle is unavailable, or use a teaspoon or two of canned Chipotle in Adobo.
Masa for Tamales – this is specially treated corn ground to the right consistency for tamale making–be sure to get the one marked "for tamales" and store extra in the freezer sealed in a plastic bag for later use.
The other special item you will need is a steamer set-up. I have a wonderful tiered steamer from Chinatown (generally used for steaming buns) that works great, especially for large batches, but you can rig something in a large pan or stock pot as long as it:
holds the tamales in an upright position,
has enough space at the bottom to allow about 1 1/2 inches of water without touching the bottom of the steam basket, and
has a tight fitting lid.
For this small recipe, a collapsible steam basket will also work, but be sure you watch carefully so the water doesn't evaporate before the time is up – check about three quarters of the way through to be sure there still is plenty of water in the bottom of the pan. One of the valuable tricks I learned in Mexico is to drop a quarter coin into the bottom of the pan with the water. It will move and rattle as the water boils – if it stops making noise, the pan is likely dry!
A final tip about tamales – they are prized more for the dough than the filling so do not be tempted to overfill them. Press the dough to about 1/4 inch thickness and use a scant tablespoon of the filling so it does not overwhelm the tamal. And no, that is not a typo – the singular noun is without a final "e". But you won't use the word often – who could ever eat just one?
Pumpkin Tamales with Black Bean "Mole"
Makes about 15 4-inch tamales
About 24 corn husks for tamales
Filling:
1 whole dried Guajillo or Chipotle chile, split open and most seeds removed
1 large garlic clove
1/2 inch slice yellow onion
1 serrano chile, halved and seeds removed
1 or 2 Roma tomatoes, halved and seeds removed
1 teaspoon whole cumin seeds
1 teaspoon smoked paprika or cayenne pepper
1 teaspoon salt
1/2 teaspoon Mexican oregano or epazote
2 cups cooked black beans (from a can, only slightly drained, or cooked from dry beans)
Dough:
3 cups masa for tamales
1 teaspoon baking powder
1 15-ounce can pumpkin puree
1 1/2 Tablespoons reserved "salsa" from above
1 teaspoon salt
To Garnish:
1/2 cup vegan sour cream
lime wedges
cilantro sprigs
1. Place corn husks into a deep container and cover with warm water; weight down the husks and let stand at least 30 minutes until all are softened.
Make the "mole" filling:
2. In a dry non-stick skillet or medium high heat, lay the chile pepper flat and toast until it darkens and you just begin to see wisps of smoke, holding it flat with a spatula if necessary. Remove the chile and place in a small bowl with water to cover for 10-15 minutes to soften.
3. Add the garlic, onion, fresh chile and tomatoes to the pan. Continue roasting until vegetables are charred, turning to brown all sides and removing any that begin to burn.
4. Add the cumin seeds and continue to toast for 1 more minute until browned.
5. Place all into a blender or small food processor and pulse to small chunks. Add the dry spices and continue to blend 1 more minute. Remove 1 ½ tablespoons and set aside.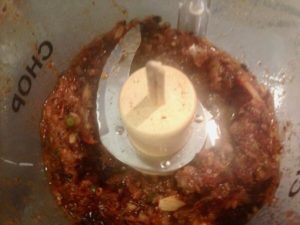 6. Add the black beans and blend until the mixture is fairly smooth. Taste for salt and adjust to your taste, adding more heat (ie with additional paprika or cayenne pepper) if you like. Set aside.
Make the dough:
7. In a stand mixer, combine the masa and baking powder and stir. Add the pumpkin and the reserved 1 1/2 tablespoons salsa and salt. Mix well – it should have the texture of "Play-Doh". Keep the dough covered with a towel as you proceed so it does not dry out.
Assemble:
8. Using any softened husks that are too small or damaged, tear about 20 thin strips which will be the ties for the tamales.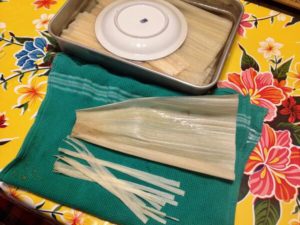 9. One by one, pat corn husks dry with towels and lay flat on the work surface with the thin end nearest you. Dip out 1/4 cup dough and spread, using an offset spatula or your fingers, into a scant 1/4" thickness, into a square shape about 4" x 4", leaving at least 1 inch of husk free on the sides.
10. Spoon one tablespoon of the "mole" down the center. Carefully pull the long sides together which will roll the dough over the filling and enclose it. Smooth and squeeze slightly into an even tube shape, then fold up about 2 inches of the narrow end. Tie securely but not too tightly with one of the torn husk strips.
11. Reserve any remaining filling to serve with the tamales.
12. Assemble a steamer set up with at least 1 inch of water at the bottom, a steam basket at least 6" deep above and a tight lid. Position the tamales, open end up and packed closely together, into the steam basket, close the lid and bring water to a boil. Steam at a consistent low boil for 1 hour, checking after 40 minutes or so to be sure the water has not all evaporated. (see note, below)
13. Once finished steaming, turn off heat and allow to sit undisturbed for 10-15 minutes to firm up.
Serving:
14. Serve tamales immediately, with some of the extra filling, and drizzled with sour cream.
15. Add lime wedges to be squeezed over the tamales and cilantro to garnish.
Note:
Drop a quarter coin into the bottom of the steamer where it will rattle as the water boils; if you notice there is no noise coming from the steamer it is a warning that the water has evaporated and you need to add more.
To store and reheat:
Wrap tamales tightly in plastic wrap and refrigerate up to 2 days. To reheat, unwrap and run them under the tap to moisten the husks. Rewrap in plastic and microwave 2 minutes.
I hope you will enjoy this adaptation of a Mexican standard and that you will be doing some of your own challenges for vegetarian/vegan week. Let us know what you have created by sharing in our group with #tcbcookingchallenge.