Long ago, I had just moved to a far-away town where I knew almost no one. Once the unpacking was nearly finished, I sat for a minute in the front window and wondered how and when I might make new friends.
Just then, my doorbell rang and there, with a wide welcoming smile was the friend I'd been wishing for. In her hand was a warm-from-the-oven coffee cake. While we shared slices with cups of coffee, we bonded, turning that impromptu visit into a friendship I treasure to this day.
I soon found out that this cake was known near and far as Ali's Famous Coffee Cake. Whether it was a down-in-the-dumps friend who needed cheering up or a school bake sale or a potluck dinner, that cake was sure to accompany her wherever she went. (There was even a story about a traffic stop that ended up with a happy policeman and no ticket issued.)
I cannot begin to count the number of times I've made this recipe. It has been handed out to a new neighbor, a new mom, a sick friend and often "just because." Recently it was delivered to the porch of a pal who was celebrating an important birthday while in quarantine. In my kitchen over the years, it has featured not just apples, but almost any fruit available. It adapts to any season and the contents of any fruit bowl, whether that is blueberries, cherries, peaches, plums, or rhubarb, depending on the season.
There are two or three life lessons that this recipe teaches. Sharing food is a great way to share friendship. Certain recipes can adapt to any circumstance life throws your way, and to whatever ingredients are available. But most of all, this is one of those recipes that every cook should know by heart or at least have filed somewhere very easily accessible.
If you have a couple of simple favorites which take common pantry ingredients and techniques, only a few minutes to make and that you and your friends and family enjoy, memorize those and keep them "in your back pocket" for any occasion. Especially appropriate are recipes that can be used in a variety of ways with substitutions as necessary. Even if you don't have time or inclination to cook a lot, these can become your lifeline. And if you are a great cook, love to bake and enjoy kitchen time, these will become go-to answers when you need them most.
Ali's Famous Coffee Cake
Makes one 9" cake
1 1/4 cup flour, sifted
3 teaspoons baking powder
1 pinch salt
2 to 3 cups fresh fruit, chopped or sliced as appropriate
3 – 6 Tablespoons sugar (depending on sweetness of fruit)
1 Tablespoon fresh lemon juice
1 Tablespoon coarse sugar
1/2 teaspoon ground cinnamon
1 stick butter at room temperature
1/2 cup granulated sugar
2 eggs
1 teaspoon vanilla bean paste, or liquid vanilla
2 teaspoons lemon zest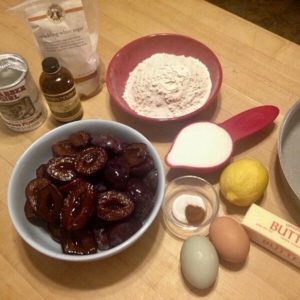 1. Preheat oven to 350º. Spray a deep 9-inch baking pan with removable bottom lightly with cooking spray. (Fit bottom with a circle of parchment paper if you intend to remove the cake from the pan to serve it on a plate.)
2. Combine flour, baking powder and salt, stir well and set aside. Toss fruit well with granulated sugar and lemon juice and set aside. Combine the coarse sugar and cinnamon and set aside.
3. With an electric mixer on medium high, blend sugar and butter together 2 minutes until light and creamy. Add eggs one at a time with machine running, then stir in vanilla and lemon zest. Gradually add dry mixture until combined.
4. Smooth batter into prepared baking pan. The batter will be stiff; use a spatula to nudge it to the edges of the pan. Spread chopped fruit over the batter, or arrange sliced fruit like apples or peaches on top by inserting them into the batter rounded side up in a spiral pattern. Sprinkle top with coarse sugar and cinnamon mixture.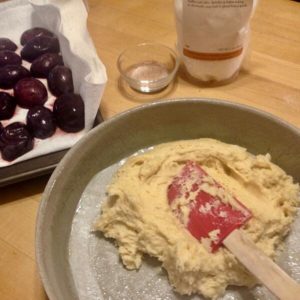 5. Bake for about 45 minutes, or until toothpick inserted into dough comes out without any wet batter attached. Cool on a wire rack 10 minutes before removing pan sides.
6. Cut into wedges and serve while warm, sprinkled with a bit of powdered sugar if desired.