Like a lot of other people over the past few months, I've chosen to rely on a delivery service for my shopping. Normally, I love to go to the grocery store. I love the colors of the produce, the new products I discover on the shelf and the ideas that inspire me as I walk the aisles.
But do I love the surprises that come in my door when the shopper makes decisions that I, if I were there, would not? Not so much.
One of those surprises was an order for a head of cauliflower. The one that arrived was the size of a basketball. The recipe I had in mind used about one quarter of that behemoth so I was left with a lot more to deal with. In looking for inspiration, I saw a posting for a creamy cauliflower sauce claiming to replicate Alfredo Sauce and decided to give it a try. Like finding a new product on the shelf, I figured it was a 50-50 chance I'd either love it or hate it. It was love.
I tinkered with the original idea because I had plenty of green veggies hanging around, and I wanted to incorporate some of those. I decided to serve it with salmon, and because I was somewhat pressed for time, I made some adjustments in the order of cooking. To further use some of the veggies, I made a delicious almost-pesto to top the salmon with flavors that reflected those in the pasta. The recipes are all below with some time-saving notes to help you get this healthy and delicious dinner on the table with a minimum of fuss but a whole lot of flavor.
So many students have asked me over the years how to get everything on the table at the same time. Every good chef knows that the secret to that success depends on three things:
Choose recipes that have compatible cooking times.
Learn to combine those recipes to cook more than one at a time and finish together.
Be prepared before you begin to cook; locate all ingredients and tools and have them at hand.Here is how to make these recipes simultaneously:
Do the chopping and measuring while a pot of water comes to the boil and the oven pre-heats. Have everything you will need located and at the ready. Make the Almost-Pesto Sauce and set aside (or do ahead).
While the cauliflower cooks, place salmon on a bake sheet, brushing lightly with oil. I topped mine with a spoonful of chopped pistachios left from the pesto, making a nice presentation and a bit of crunchy texture.
Scoop out cauliflower with a slotted spoon and place into a food processor. Add pasta to the pot of water and place salmon into the oven – the fish should take 8 – 12 minutes (depending on thickness and how well done you like it) which is also perfect timing for most pastas.
Meanwhile, saute garlic until browned, then lift it out of the pan and add to the processor. Add remaining ingredients and blend until smooth.
Saute asparagus and chard in the same pan until just barely tender. Add puree to the pan and simmer. Add drained pasta to the pan and toss well, tasting for seasoning and adding a bit of liquid (pasta water, milk or stock) if the sauce is too thick.
Place a twirl of pasta on each plate, slide the salmon alongside and top fish with a scoop of the Pesto. It's "Almost" dinner time.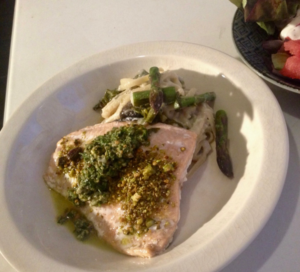 Almost-Pesto Sauce
Makes 1 cup
1 cup parsley leaves
1 cup spinach or chard leaves, roughly chopped
2/3 cup water
1/2 cup green onion, chopped
1/4 cup chopped nuts (walnuts, pistachios or pecans)
1 Tablespoon capers
1/2 teaspoon salt
1/4 teaspoon pepper
2 cloves garlic
1/2 cup fresh bread cubes
1. Place all ingredients except garlic and bread into a food processor and pulse until roughly chopped. With the machine running, drop in the garlic and then add the bread and continue to process until a slightly chunky puree– the bread thickens the sauce.
2. Sauce will keep, tightly covered in the refrigerator, up to 4 days. Use any left over with fish, chicken or toss with pasta.
Almost-Alfredo Sauce
Serves 2 but is easily multiplied
1 large cup cauliflower florets
2 servings linguine pasta or other shape
1/3 cup milk
1 tablespoon butter
2 cloves garlic, slivered
2 cups chopped chard leaves – See Notes
1 cup asparagus, chopped
Salt and pepper
1/3 cup fine grated Parmesan cheese
1. Put a large pot of salted water on to boil. When boiling, add florets and cook 20 minutes until very soft. Carefully remove florets from the water to a food processor or blender, leaving water on the boil. Add pasta to the water and boil – 10 minutes or as package directs.
While pasta boils:
2. In a medium skillet melt butter and cook garlic until it and butter both begin to brown; do not let it burn. Remove garlic to processor, leaving butter in the skillet. Blend garlic with drained cauliflower, milk, salt and pepper until smooth.
3. In the same skillet, sauté chard leaves until wilted and asparagus is bright green. Add puree to the skillet and cook 2 minutes, stirring constantly. Off the heat, add Parmesan and stir. Add a bit more liquid (pasta water or milk) if the sauce is too thick.
4. Drain pasta and stir into the sauce. Place a twirl of pasta on each plate, topped by a serving of fish. Spoon some of the Pesto on top of the fish and serve.
NOTES: If you have Green Bombs (chard, spinach, or a mix) from this earlier blog, use one large Bomb. Thaw slightly, chop coarsely and add directly to the pan for a quick sauté before adding the puree.
Simple Baked Fish
Serves 2
2 6-ounce portions of salmon, cod, halibut or other fish, about 1" thick
2 Tablespoon olive oil
1 Tablespoon chopped nuts
1. Preheat oven to 425º. Line a bake sheet with foil and brush lightly with a bit of the olive oil. Place the fish, skin-side down, on the pan and brush the rest of the oil over. Sprinkle nuts on top.
2. Bake 10 minutes or until fish tests to your preferred doneness when prodded in the center with the tip of a knife.
In general, fish filets cook in 10 minutes per inch of thickness so use this a rule of thumb for timing. If you want to grill or fry fish, we have some tips here.