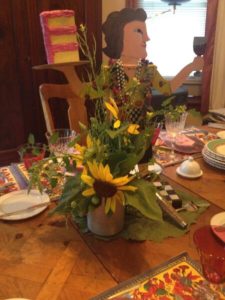 Just after finishing my culinary school training, I attended a food professionals' conference in New York. At one of the lectures, the seat next to mine remained empty until a very tall woman arrived. I immediately recognized her, but I was too much in awe to speak. She, however, didn't pause as she leaned over and said "Well, who are you and what do you do?" I stumbled out something about just graduating and trying to decide if I should make food my life's work or stay in another industry. In that breathy voice and warm manner we all know well, she patted my hand and said "Oh, it's a fine career, Dearie. Go for it!"

Go for it I did – who could disobey Julia Child? I had the blessing of the Grande Dame. And every year at that same conference, she never failed to find me and ask "How's your career going, Dearie?" As I moved from cooking teacher to caterer to events manager and half a dozen other ways to honor her directive, she always cheered me on.
Julia Williams Child was born on August 15, 1912 so tomorrow would be her birthday. And as I have done for decades, I intend to throw a birthday party for her. True, I won't be able to surround my table with other protégés this year, but the day must be honored. So as I do every year, I search her cookbooks for a worthy menu. The books pile up on the buffet along with photos, an autographed plate and other personal memorabilia into an altar of sorts. The centerpiece is always a wooden cutout I won at auction on her 90th birthday, her likeness hoisting a pink-frosted cake and a glass of red wine.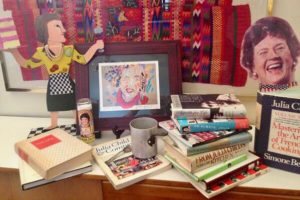 When she was moving from Massachusetts to California, most of her kitchen moved to the Smithsonian.
There was too much to move all of it to the museum. Extras were packed into Mystery Boxes and raffled to raise money for scholarships. The box I got was truly a mystery. It held a little saucepan, a nutmeg grater and one other item I could not for the life of me figure out. All of the cooks I knew took a guess, but they too were mystified.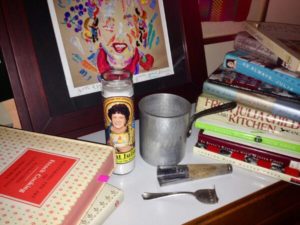 According to Stephanie Hersh, her long-time assistant, as quoted from In Julia's Kitchen: Practical and Convivial Kitchen Design Inspired by Julia Child by Pamela Heyne and Jim Scherer:
"She loved having kitchen tools for every purpose. As far as Julia was concerned, you couldn't have too many. She …had almost every kitchen tool ever invented—in every size, shape and color! The drawers and cupboards were filled with tools that peeled, chopped, sliced and diced. There were bottle openers of all sorts and oyster shuckers, scoops, cutters, temperature gauges… you name it, she had one."
Imagine my delight when I paged through one of her cookbooks and came upon this little implement in a picture – aha, it's a corn scraper!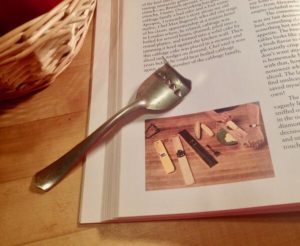 August is not exactly the ideal time to make a pot of her signature Boeuf Borguignon but it is the height of corn and tomato season. It is a perfect time to make this dish to serve as a first-course, or with a salad as a summertime lunch or supper. And it's the perfect reason to use that mysterious corn scraper.
So although it won't be the same without friends joining me, I will still celebrate my luck in choosing just that seat so many years ago. I will put sunflowers into the little saucepan, set the nutmeg grater and corn scraper beside it –as shown here at last year's celebration, when the table featured the pan filled with tomato vine clippings and sunflowers and Julia masks used as place cards. I'll make these corn timbales and the tomato sauce and raise a toast – I'm sure she will be listening. Bon Appetit, Julia!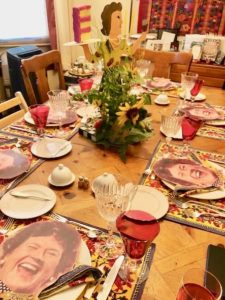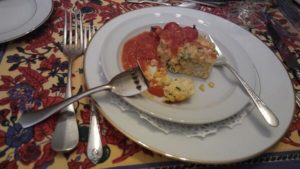 Timbales of Fresh Corn
Recipe Adapted from Julia Child and Company – Albert A. Knopf 1978
Serves 4
1 Tablespoon butter, softened
About 4 ears corn, scraped from the cob to make 1- 1/2 cups
3 eggs
2 Tablespoons finely minced green onion
1/2 teaspoon salt
2 Tablespoons minced fresh herbs (i.e. thyme and chives)
1/3 cup fine bread crumbs
1/3 cup heavy cream
pinch of cayenne pepper
1. Preheat oven to 350º. Use the softened butter to grease individual small ramekins well on sides and bottom. (see note)
2. Cut kernels from the corn, then scape cobs (with the back of a knife if you don't have one of Julia's handy scrapers) to measure 1-1/2 cups, including all of the milky juices. Lay the corn flat on a work surface and use a sharp knife straight down to cut off the kernels, then use the back of the knife to scrape against the cob to get all of the juices Many people tell you to stand it up or secure it into the center of a bundt pan before cutting – this just results in corn all over the kitchen. This method is much less messy.
3. Beat eggs in a large bowl, adding the rest of the ingredients in order listed. Stir well, then fold in the grated corn last.
4. Spoon into the prepared dishes. Set a large deep baking pan into the oven and fill with boiling water to a depth of about 1 inch. Lower the filled dishes into the hot water; bake for 40 minutes, until timbales are set.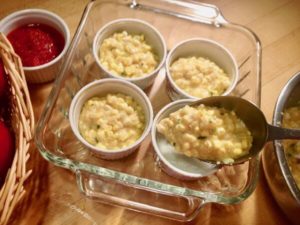 NOTES:
The timbales are lovely served from the ramekins but if you wish to unmold them for serving, line the bottom of the ramekins with circles of greased parchment paper. After baking, cut around the edges and tip out carefully, remove the parchment and set timbales on serving dish(es). Serve with fresh tomato sauce spooned around the plate.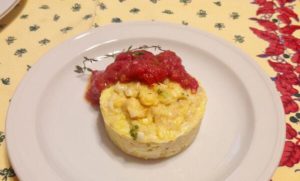 Recipe Adapted from Julia Child and Company – Albert A. Knopf 1978
Fresh Tomato Sauce
Recipe Adapted from Julia Child and Company– Albert A. Knopf 1978
Makes about 1 cup
1 pound fresh firm red ripe tomatoes (see note)
1 Tablespoon olive oil
1 Tablespoon finely chopped green onion
1 clove finely minced garlic
1/2 teaspoon fresh thyme leaves
1 bay leaf
Salt and fresh ground black pepper
1. Remove core of tomatoes and cut an X in the bottom just through the skin. Boil a saucepan of water, drop tomatoes in for about 1 minute until skin begins to curl. Drop immediately into a bowl of ice water. Peel tomatoes and squeeze out the seeds. Dice into small cubes.
2. To seed the tomatoes, cut around the equator of each tomato and insert your fingers into the hollows to pull out seeds. Discard seeds and extra juices.
3. Heat oil in a medium saucepan over medium heat, stir in the green onion and garlic for about 1 minute. Add tomatoes, thyme and bay leaf and simmer, stirring occasionally. As liquids evaporate, stir and toss constantly until tomatoes have evaporated their juices and thickened and a heat-proof rubber scraper leaves a clear trail in the bottom of the pan. This may take up to 25 minutes depending on how juicy the tomatoes are – keep an eye on them near the end and stir more frequently so they do not scorch. Add salt and pepper to taste, adding tomato paste if desired (see note).
4. Remove bay leaf before serving or storing.
Sauce may be served hot, just warmed through or at room temperature and may be made well in advance and stored, covered, in the refrigerator for up to 2 days. It is wonderful served with grilled chicken or fish.
NOTE: You will need 3 – 4 medium regular or heirloom tomatoes or about 8 Roma or San Marzano. If the tomatoes are not flavorful or colorful enough, add a tablespoon of tomato paste after sauce is reduced.