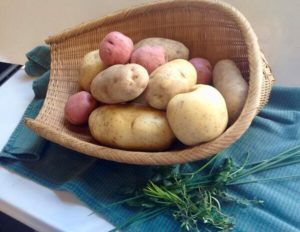 Listening to Raghavan Iyer talk recently about his new book covering all things potatoes (Smashed, Mashed, Boiled, and Baked – And Fried Too! Workman Publishing, New York, 2016) got me thinking about that humble tuber. In our rural home when I was a youngster, we didn't know much about fancy grains, unique pasta shapes and other carbohydrates to use for side dishes. In our house, every day was potato day. Every. Day.
Our huge garden boasted several rows of potatoes, which my superstitious dad planted without fail on Good Friday morning. And in early summer when those tubers were unearthed, there were mountains of potatoes to move into our cellar for use in the months ahead. At my farmers market the early "new" potatoes are just beginning to appear right now, bringing back memories of those days.
Although there are more than 200 varieties of potatoes, only two or three are commonly available at the supermarket: russet, red and Yukon Gold. Recipes often refer to starchy, waxy and all-purpose as the best choice. But knowing which one to use for which recipe, if it is not indicated, seems to often be a mystery to most cooks.
A waxy potato will hold its shape after cooking, so choose those for things like potato salad or crispy fried potatoes. If possible, leave the skins on when using. Starchy potatoes, like Russets, will yield fluffy baked potatoes or smooth mashed potatoes. And the yellow potato varieties are an "all purpose" choice, usually softer than reds but more sturdy than russet – they make fluffy mashed potatoes but will also stand up to a gentle smash.
At the grocery store, you may see spuds labeled "New Red Potatoes" all year round. Beware. That is often only a marketing phrase, and the potatoes with that designation that you buy in winter have been stored, where their natural sweetness will have converted to starch. Nothing wrong with that, but it will affect how they cook and taste. So it's a good idea to know which variety to use for best results in any recipe. I encourage you to try some just-harvested potatoes right now and experience their more "potato-y" taste.
Below I've given you two of my favorite ways to make potatoes. One requires a slightly firm potato, so choose a waxy variety like Red Bliss or, as I have here, the all-purpose Yukon Gold variety, which I generally prefer for size and "good looks". It is important that what you choose will hold their shape after cooking.
Long indicated for the perfect mashers, Russets are the one to use for the mashed variation, a recipe I use repeatedly. Here the addition of fresh or frozen greens ups the nutrition value as well as adding color. No greens on hand? Check this blog for how to make and store Green Bombs so you can make this at any time.
For the smashed potatoes, in addition to the photos here, refer to this blog. There the recipe is slightly different but you will find lots of great photos illustrating the process for "smashing".
Either smashed or mashed, these variations will considerably up your side dish game!
Herbed Smashed Potatoes
Serves 4- 6
1 1/2 – 2 pounds whole waxy potatoes, about 2 1/2" size (red or gold varieties)
1/4 cup olive oil
3 Tablespoons chopped herbs (rosemary, chives, parsley or a combination)
2 cloves garlic, chopped
1 teaspoon coarse or sea salt
1. Preheat oven to 450º. Prepare a sheet pan lined with parchment paper. Bring 4 quarts salted water to a boil.
2. Add potatoes and boil about 20 minutes, until a knife will pierce to the center – do not over cook.
3. While water boils, combine oil, herbs and salt and set aside.
4. Drain potatoes and arrange on the sheet pan. Using the bottom of a heavy coffee mug or a small saucepan, gently but firmly press down on each potato until it begins to burst its skin and flattens. Brush generously with the oil.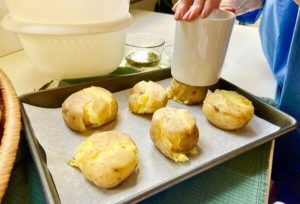 Here's a video to demonstrate brushing the potatoes with herbs and oil: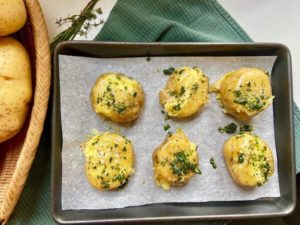 5. Bake for 20 minutes or until potatoes are completely soft and beginning to crisp. Sprinkle with additional sea salt and serve.
Make ahead notes: Potatoes can be boiled and smashed up to 3 hours before finishing. Brush with herb mixture and bake. Or they may be completed ahead of time and reheated at serving time in a 400º oven for 8- 10 minutes.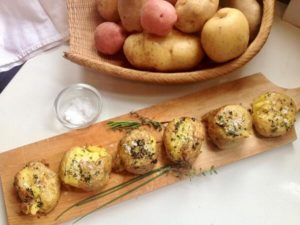 Fancy Mashed Potatoes
Serves 4
1 1/2 – 2 pounds russet or Yukon Gold potatoes, peeled and cut into 1" chunks
2 Tablespoons butter
1/2 cup sour cream
1 Tablespoon dry onion soup mix (optional)
1/4 – 1/2 cup milk
Salt to taste
4 cups fresh chard, kale or spinach leaves, chopped and blanched then drained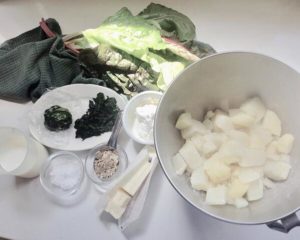 1. In a large saucepan bring 3 quarts salted water to the boil. Boil potatoes 12 – 15 minutes until very soft. Drain and place in bowl of a stand mixer fitted with the whip attachment.
2. On medium speed, mash potatoes adding butter, sour cream and soup mix after 1 minute. Raise speed to medium high and add milk as necessary to achieve the fluffy texture you like best.
3. Remove bowl from mixer and scrape down sides with a rubber scraper, then stir in greens by hand. Taste and add salt – note that the soup mix, if using, will be salty so you may not need additional salt.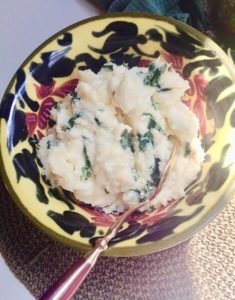 No fresh greens available? If you have Green Bombs in your freezer, you can add 1 or 2 of them to your mashed potatoes instead. Let thaw a few minutes on the counter, then chop and pull leaves apart with your fingers before dropping them into the mash.